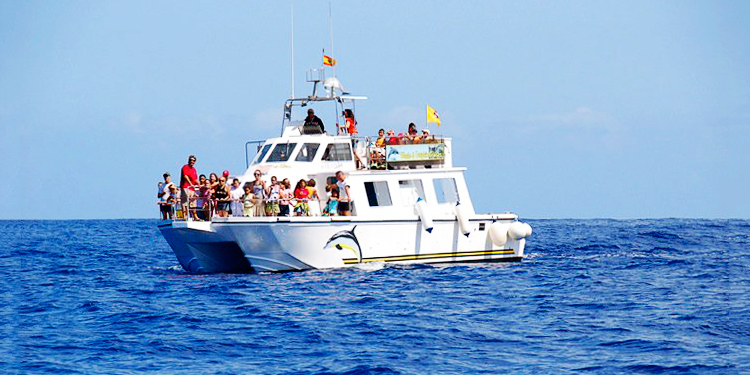 Information über Ausflug
3 Hours Excursion:
Nashira Uno is a catamaran with submarine vision that offers 2-hour excursions for the sighting of cetaceans with drinks and food included. We will do a a stop at Masca so that you can enjoy the crystal clear waters of this bay. We have snorkelling equipment at your disposal on board so you do not have to worry about anything. Marvel at the spectacular cliffs of Los Gigantes that we will skirt back to port.

Departure days and times: Dayly at 11:00 and 14:00

Services included: food and drink.

Children aged: from 2 to 12 years.

Departure port: Puerto de Los Gigantes.This boat doesn´t provide transfer at all, clients must go direct to the harbour.

Sprache
Spanisch
Englisch
Französisch
Deutsch
Italienisch
Ein Fehler ist aufgetreten. Versuchen Sie es später noch einmal.
Sie haben kein Person ausgewählt.
Sie haben kein Hotel gewählt .
Sie haben kein Datum für den Ausflug gewählt.
Sie haben noch nicht die Sprache für den Ausflug gewählt.
Es gibt nicht genügend Plätze zur Verfügung.
No ha seleccionado ningún horario de subida al teleférico.
No hay plazas suficientes para el horario seleccionado de subida al teleférico.
Hotel :
Punto de recogida:
Datum:
Datos:
Direccion:
Hora de recogida: