Teide Cable Car - Tickets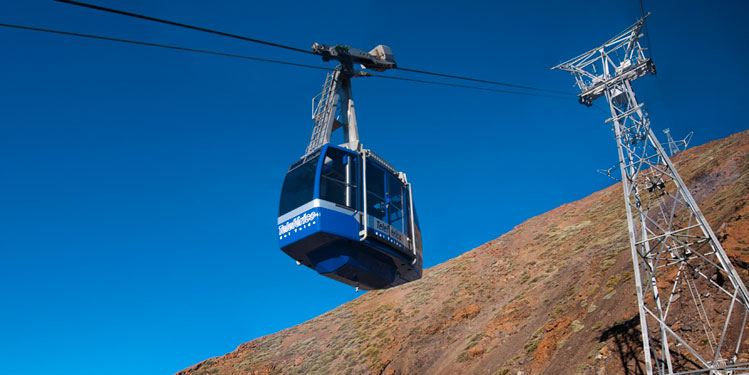 Excursion information
Teide Cable Car, in Teide National Park, Tenerife, the Canary Islands, a great trip to Spain's highest volcano. Live the experience of gliding over a geological gem where volcanoes, craters and lava flows form an impressive palette of colours and volcanic shapes you won't find anywhere else in the world.

Opening Time:
The service runs between 09:00 to 16:00 hours, daily. The last ascent is at 16:00 hours and the last descent at 16:50 hours.

Journey time: 8 minutes.

Prices:
Adult: 27€
Children ( 3- 13 years) : 13,50€
Rate Fast Track : Cable car cabin + Quick Access for Small groups.
This prices are for return tickets. The ticket is valid for one year from the time of purchase.


Recommendations: This ascent is not recommended for people with cardiovascular or pulmonary problems, pregnant women or children under 2 years of age due to risk of the high altitude having an adverse effect on their health. Consult your doctor before planning your visit.

The Lower Station
The lower station is easy to reach by road and stands at 2,356 m above sea level. These modern facilities are equipped with two cabins that can hold a maximum of 44 passengers and travel to the top in under 8 minutes. The lower station offers spectacular views of the peaks surrounding Mt Teide.

The lower station has a rest area, coffee shop and self-service restaurant with splendid views of Teide National Park, a shop and public toilets.

The Upper Station
The upper station has a small foyer that leads directly outside. It is equipped with Wi-Fi, toilets and Spain's highest public telephone. There is no coffee shop, and you are recommended to come prepared for changes in temperature. Located at 3,555 m altitude, the upper station is the starting point for marvelous routes.

Return policy Policy:
The option to take the cable car will always be conditional on the weather or technical problems do not prevent the cable car. If for any reason the cable car does not work, if the tickets have not been used, the customer will be refunded the amount thereof. Cable car tickets are valid for 10 days, once they have been issued, there is no possibility of any refund, except due to weather conditions and when the client is in the departure lounge .

Children Aged: from 3 to 13. Not recommended for children under 2 years.
Language
Spanish
English
French
German
Italian
An error has occurred. Try again later.
You have not selected any person.
You haven´t selected your hotel.
You have not selected the date of the excursion.
You have not selected, the language of the tour.
There are not enough places available.
No ha seleccionado ningún horario de subida al teleférico.
No hay plazas suficientes para el horario seleccionado de subida al teleférico.
Hotel:
Pick up point:
Date:
Data:
Direccion:
Hora de recogida: