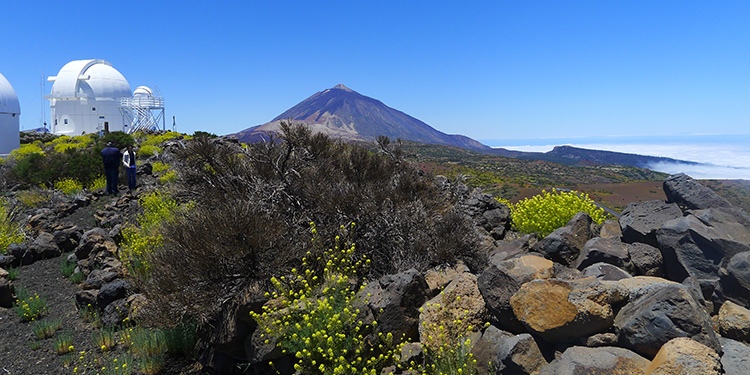 Excursion information
Our guided visit will allow you to get to know the Observatory, and the daily activity of the researchers who work there, in an enjoyable way.
Along with Chile and Hawaii, the Canary Islands are one of the three best spots in the world to observe the sky. The Teide Observatory is the largest solar observatory in the world, and it is equipped with many solar and nocturnal telescopes owned by different European countries.

If you would like to make your own way to the Izaña Observatory for your guided visit, you must arrive at least 20 minutes before the tour is scheduled to start. There are visits on Mondays, Tuesdays, Wednesdays and Fridays at 12.00 in Spanish and English simultaneously and at 2.30pm in Spanish and German simultaneously. On Thursdays, there are visits in French at 1.30pm. On Sundays, there are visits in Spanish at 11.00am.

The Teide Observatory is located at an altitude of 2,390 m, in the area of Izaña. The entrance is located at km 37 of the TF-24 highway. It takes approximately two hours to reach the Teide Observatory from the south of the island, an hour and a half from Santa Cruz, and an hour from Puerto de la Cruz.

Should the weather not allow the activity the money will be returned.

Not recommended for children under 8.

Note: Hotel pick-up is available from most South Tenerife hotels,except for hotels in Los Gigantes and El Médano areas. Please contact us to arrange pick up if you are not staying in this area.
Language
Spanish
English
French
German
An error has occurred. Try again later.
You have not selected any person.
You haven´t selected your hotel.
You have not selected the date of the excursion.
You have not selected, the language of the tour.
There are not enough places available.
No ha seleccionado ningún horario de subida al teleférico.
No hay plazas suficientes para el horario seleccionado de subida al teleférico.
Hotel:
Pick up point:
Date:
Data:
Direccion:
Hora de recogida: