The preventive measures against COVID-19 contained in this page are mandatory to guarantee your safety and that of other people.
Failure to comply with these measures, as well as the presentation of symptoms associated with the contagion of COVID-19 will be subject to the denial, by our staff, of carrying out the experience. In this scenario, the amount of the reservation will be refunded.
Mandatory hand disinfection prior to accessing the bus
We provide hydroalcoholic gel for hand disinfection
Mandatory mask
During the course of the activities, as well as in the common areas, the mask is mandatory

Trained and equipped staff
Our staff has the appropriate training in prevention of contagion by COVID-19 and knows the contingency plan established by the company that manages the fleet of vehicles.
Protocol on buses
Use of masks on buses

The mandatory use of masks that cover the nose for all users (in case they do not have one, the carrier will reserve the right of admission).

Occupancy conditions

La ocupación se permite al 100% de capacidad según el BOE publicado el 06 de junio de 2.020 número 160, Art.2, nº 6 indica:

"In regular, discretionary and private complementary public transport for bus passengers, as well as in rail transport, in which all occupants must be seated, all seats may be used. When the occupancy level allows it, the maximum separation between users will be sought ".

Infographics and action manuals

Visible infographics and manuals with information on hygienic procedures and behavior guidelines will be placed inside the vehicles

Bus cleaning

In accordance with the recommendations of the Ministry of Health, cleaning measures will be intensified inside vehicles with disinfectant products (SYMFECTS see technical sheet in Annex I), paying special attention to all surfaces with which drivers and travelers can be in greater contact such as seats, grab bar, seat belts, opening and closing elements.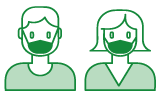 Staff protocol
Formation activities

All staff have received training on risks and prevention against COVID 19

Personal action protocol in direct contact with passengers (drivers, companions)

Rules of action during the performance of services:

Use of the TYPE FFP2 UNE-EN 149 mask, mandatory whenever you are on duty
Use of gloves when handling luggage, maintain "social distance" as much as possible.
Frequent washing and cleaning of hands with hydroalcoholic gels or soap and water.
Instruct and inform passengers that they must maintain a minimum safety distance between them, avoiding occupying adjacent seats that are occupied.
Avoid physical contact with passengers, including shaking hands.
After each service, remove any debris from the vehicles, especially disposable tissues.
NOTE: These sanitary measures will be adapted according to the needs of the moment, always following the recommendations of the corresponding official bodies